The rains seem to have moved on from Mumbai ... but left behind a terrible tale of destruction. In addition to the loss of human life, the rains have also resulted in a tremendous loss of lifestock... mostly buffaloes in
tabelas
(cowsheds), who could have gotten away and survived if it had not been for the fact that they were tied up, and died a horrific death. The carcasses now left behind pose serious health risks and hopefully damage from those can be mitigated.
Here are some of the horror stories, documented and shown to the world by intrepid Mumbaikars: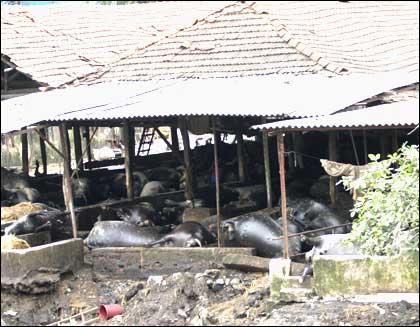 Image from Rediff
More images - check
Ashish Panchal
's website
And all the senseless SlimesOfIndia could think about was how some folks were perturbed at
not having their morning sleaze with their lemon tea
. And what an achievement it was that Sachin Tendulkar got his paper on time, and didn't have to face the
inconvenience
!!